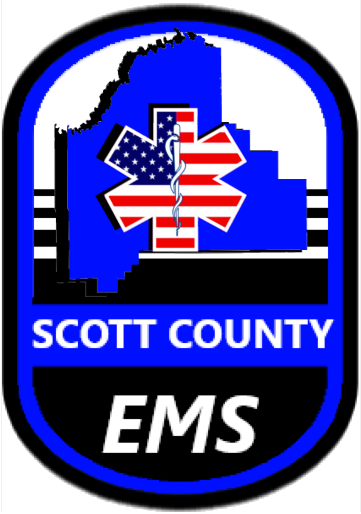 About Us
Scott County EMS was founded in 2005 with the first run being dispatched on April 1, 2005.  Scott County EMS is a county owned and operated ambulance service that serves the citizens of Scott County, Indiana.  This service is the exclusive ambulance provider for all emergency and non-emergency transports in Scott County, Indiana.  Scott County EMS is a certified Advanced Life Support Provider in the State of Indiana.
We have an annual call volume of approximately 4,800 - 5,000 calls , which include 911 responses and inter-facility transfers.  Currently, we staff three ambulances 24/7. Additionally, we have two additional ambulances we utilize for additional coverage. Additionally, we operate three paramedic non transport units. We recently purchased an UTV for special event coverage, responses in the rural settings and response to the walking trails around Scottsburg.  Our staff consists of three full-time administrative personnel, twelve full-time employees who work on the ambulances, and approximately twenty part-time/PRN employees. The service has the following levels of service Paramedic, Advanced EMT and EMT.
Kyle West
Kyle is an Indiana licensed Paramedic and has been serving as a supervisor since 2016. He was promoted to the position of Deputy Director in 2020. Kyle is now serving as our Interim Director. Kyle has been serving Scott County since 2011.
Danny Basham
 Danny is an Indiana licensed Paramedic as well as a primary instructor. He has served in the position as Training Officer since 2019.
Patricia Forbes
Pat has served as the Administrative Assistant since 2012.
Meet the Medical Director
Dr. Robert Hicks
Dr. Hicks is an Emergency Medicine physician who serves as a Physician at Scott Memorial Hospital Emergency Department and the Scott County EMS Medical Director.  Dr. Hicks has extensive emergency medicine experience and has been serving in this capacity with Scott County EMS since 2021.